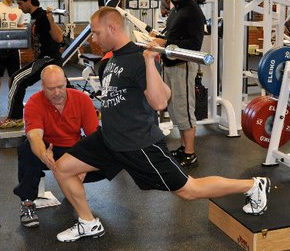 In the last couple years I have had the pleasure of learning from Andre Benoit during numerous courses through the Poliquin Strength Institute.  It's totaled near 2 months of time spent in the classroom and gym.  For those of you who have taken courses with Charles, you will know what I mean when I say Andre is the Yin to Charles Yang.  Andre has been a major part of the evolving PICP program, and brings a great background of knowledge and first hand experience.  He was trained himself by Charles Poliquin for the Olympics, and I think that being on both sides of high level training makes him an incredible coach and educator.  Overall the PICP education I completed has been the most useful and practical training tool to date.  A common statement among students is that they learn more practical information in one week doing their PICP level 1 & 2 than they did in all their years at university.
FFM: How did you start working with Charles Poliquin as an Athlete?
AB: Before I worked with Charles Poliquin, I had 4 years of bad training 1984-88.  At that time I was working with specialist from university and that's when I got my injuries.  I had an injury from broken back from a fall when I was 12.  One of the exercises they had us doing was squats with a belt.  I lost my stability coming up and re-aggravated the injury to my back.  I also suffered a severe shoulder injury at that time.  The two specialist I saw said that I would have to have surgery if I ever wanted to compete again and I would have chronic pain for the rest of my life.  Then in May of 88 Charles comes in, and within a month he solved my shoulder plan, and by 2 months my back pain is gone.  When Charles came in, results were immediate.  That year I went from went from doing about 120 lbs deadlift to over 400lb deadlift which is a PB for me. I then went on to qualify for the next Olympics.
FFM:  When you say you had bad training before Charles give me an example.
AB:  In luge, my job really was just to pull really hard.  One of our test was a 1 rep max on the pull-up.  But we also had a 10 mile run.  At this point in time even I knew that running 10 miles had nothing to do with performance in luge, and the coaches even said that aerobic work would decrease strength.  So this made no sense to me.
FFM:  How did you come to work with Charles?
AB:  While I was still with the luge team I was studying to be a pilot.  When Charles solved my shoulder and back issues I realized that this guy knows something that nobody else does.  I had always been intrigued by the human body and the things it could do, and learning from Charles showed my I could do something without being a doctor.  At one point in time I wanted to make prosthetics to help people, but then I realized that this was even better.  I quit flying and started taking university courses for physical education.
FFM: You have been teaching the PICP system for Charles for quite some time.  What would you say are the advantages of this program over other systems?
AB:  The biggest advantage is that you get consistent results.  You have the structural balance evaluation and everything is standardized.  This way you are able to figure out a starting point and a picture of where the client is at.  It teaches you the method to resolve issues with structural balance, speed, power, strength, and flexibility.  Because it's a complete system from evaluation to program design, it really decreases guessing.  You can tell your client: this is where you are at, this is where you are gonna go, and this is how you are going to get there.
FFM:  Any other reasons a person would choose a PICP coach over another coach or personal trainer?
AB:  Based on what I have seen, the results from the PICP program are just much better.
FFM:  What kind of feedback do you get from students taking the PICP course?
AB: They were un-happy with previous program.
They learned more useful information than their degree.
They finally have a program based on hard facts.
They feel they have evaluation, tools and progressions to use to solve problems.
The level of knowledge you gain in a short time.
FFM:  So what are you working on now aside from teaching the PICP courses?
AB: I am opening my own training center in Canada specializing in strength rehab, especially for the shoulder and knee.  I want to try and do more for kids (age 12-18) so they can have a strong foundation and knowledge.  I also want to start an internship program to teach and mentor coaches as they train at my facility.
Andre has a Bachelor's Degree in Physical Education from the University of Calgary. He also is a former level 2 CHEK practitioner and is certified in Trigenics, Fascial Abrasion Technique, and has a level 3 NCCP Canada.  He has worked with Charles Poliquin for 19 years, first as an Olympic luge athlete, then as his assistant.  Andre competed at the National and International levels of the Canadian Luge team for 9 years. A two time Olympian, he was the Country¹s National Champion for 6 years, and had top 5 finishes on the World Cup circuit. He set an Olympic record in the start at the Albertville Olympic Games. He has been the strength coach for many Canadian National Teams: Luge, Bobsleigh, Alpine Skiing and Skeleton. André was also strength coach for national team members in track and field, judo, and speed skating. He also worked with professionals from the National Hockey League (NHL), the Canadian Football League (CFL) and the National Football League (NFL)
---