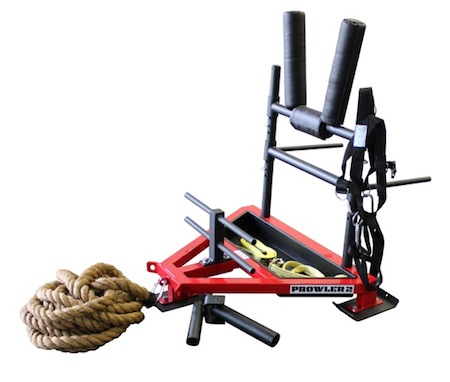 In terms of pure hardcore fat burning, there is one piece of equipment out there that has no equal: The Prowler.  The Prowler is basically a multifunction push and drag sled designed for fitness.  The original design was for use with American Football Lineman.  The prowler was designed to improve running mechanics, power, and capacity.  For those of you who have never had the pleasure of pushing a football sled, you will be in for a treat.
Few exercises, if any, can recruit a maximal effort as easily as a sled.  The intensity is whatever you can put into it.  With tons of versatility to change exercises and adjust from one trainee to another, the prowler is unmatched for group fat loss training as well. The bottom line is, any gym or trainer that is serious about getting fast fat loss results should invest in some form of sled. The Prowler itself is from EliteFTS.com and comes in a standard and economy version. I recommend spending the extra coin on the regular version because it is a little more versatile and should last forever if you don't leave it out in the rain. There are many generic sleds out there that mimic the prowler, some with unique qualities.  The main reason I purchased the EliteFTS Prowler is because it has easy to replace skis and add on attachments. This means I can add additional variations of exercises to my prowler, and if I am going to use it outdoors, it will only take me 5 minutes to replace the skis when they get worn down.  They also sell neoprene skis for use on indoor rubber flooring and turf.

"Why waste your time on a cardio machine that dictates the speed you should walk or run, when all you need to do is push or pull, which brings more bang for your buck than any piece of cardio equipment? Any respectable trainer and/or strength coach should know by now that using intervals or Tabata style training to improve cardio capacity is the way to go. So why not use the Prowler? Even in a tight space, you can manage to get a decent workout with it. If you're thinking of opening up a small private gym, you need to invest wisely. A good Prowler can go for as much as $300-400, while a good treadmill will go for as much as a few thousand, so it's a clear choice. All you need is to set-up your place in a way that you can have a small straight track, long enough to make some drills with the Prowler." – Eric Falstrault
The Prowler is not just limited to fat burning energy system workouts.  It can also be used as a strength tool to rehabilitate the VMO, improve running mechanics,  improve lateral speed, and work great as a tool for twice a day or concentric only training.  Equipped with front hooks for dragging and 3 handle variations there are a ton of exercises available right out of the box.
---