The holidays are marketed as a time of joy and giving.  In non-publicized terms, that means indulging and spending.  Hopefully after reading these blogs, you can be a little more confident in both.
Pros and Cons of purchasing fitness equipment.
Cost of home equipment vs a gym membership.  Gym memberships can range between $15-$100 per month.  That translates to $180-$1200 per year.  So at best, it would take several years of not paying for a gym membership to pay for a brand-name treadmill or elliptical.  That being said, the quality comparison is not even close.  A life fitness treadmill found in a premium gym will have a much different feel than a star trek treadmill or generic found at your local big box store.  At a price of $7000 each, the gym treadmill should perform better and last longer though.  While I am not huge on aerobic training in general, I thought I would just state that the quality of equipment for home use is not the same quality you will get in a premium gym, but may be close to some small box gyms.  Overall, if you're looking to invest in a piece of aerobic training equipment, the convenience really needs to be worth it, because it is not cost effective.
Aerobic equipment is large, expensive, and requires maintenance.  Considering that most home aerobic equipment shares the fate of either becoming an overpriced clothes hanger, or the least desired item at your next garage sale, I would not suggest purchasing any.
Weight machines and universal stations like the Bowflex are also high priced items.  While they will likely last longer and require less maintenance than aerobic equipment, that doesn't necessarily make them a better option.  One of the most important elements of resistance training is being able to vary the exercises and angles at which you work.  This brings optimal results and prevents overuse injuries.  Once again, the convenience had better really have some value to you, because you are once again going to be getting inferior training quality exercise for a large monetary investment.
Free weights are definitely the biggest bang for your buck.  You will get more exercises with less space and less money.  A pair of dumbbells and an adjustable bench can offer a near endless amount of exercises while only taking up a few square feet.  If you ever have to move, free weight equipment is easy to transport and should last forever.  If you're really tight on space, there are several options for adjustable dumbbell sets that can give you a 5-100lb dumbbell set in one pair.  The only downside of the adjustable dumbbells is that they are bulkier and not as solid and smooth to use.  You won't want to be dropping these on the floor.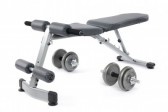 If you're really considering purchasing a piece of fitness equipment for at home here are a few more things to consider.
Will it be used?
Whats more important, quality of workout or convenience?
Is your home an ideal place to workout?

You must factor in noise – will you be waking up your spouse or kids?
Do you really have the space to make the workout area comfortable?
Are you disciplined enough to avoid distractions at home?
Are you knowledgeable enough to design your own workout plan?
The biggest reason I am against at home exercise equipment is because people are more likely to fail to reach their fitness goals.  It's easier to put of a workout when you can justify that you can just get to it later at home.  It is easier to cut things short or get distracted doing things around the house, answering the phone, checking emails, taking care of the kids, etc.  When you're at the gym, your only purpose is your workout, there are no other things to be done while you are there.  Lastly, if you are serious about your training and getting results, you will want to have all the tools you need to get the job done.  It's harder to build a skyscraper without big expensive equipment, and it's harder to sculpt the body you want without the right equipment to maximize your workouts.  Never underestimate the effects of having the right tool at the right time.
---