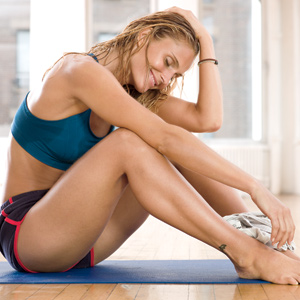 For many when it comes time to traveling or preparing for the holidays, they skip their workouts all together.  While you might make yourself a little extra time doing this, it often leaves you even less productive and more stressed.  My suggestion is that during this time you don't skip the workouts, but maybe cut them down to a few quick and hard workouts that will have you feeling better and maintaining your hard work so you come out of the holidays healthy and refreshed.
It only takes a small amount of exercise to maintain the results you have been getting in the gym.  For instance if you usually workout 4 hours per week, you can easily maintain your body in 2-3 short workouts (20-30min) per  week.  Surely most people can make time for that between shopping and running errands.
The two hormones that are increased the most over the holidays are insulin (from carb consumption) and cortisol (from stress).  Both of these hormones negative effect lean body mass and increase central weight gain.  Exercise decreases insulin levels and uses cortisol.  Exercising over the holidays will help decrease insulin and cortisol produced over the holidays, minimizing the negative effects on body composition.
Exercise increases Glut-4 receptors, lipoprotein lipase and increases fatty acid transporters.  What does that mean?  basically exercise turns on the genes that make you store energy in you muscles and use energy from fat cells.  When taking in excess calories, its even more important to have your body in a mode where it is going to feed your muscles.  The more your body refuels the muscles rather than storing excess calories as fat, the better your workouts will be when you return to your regular exercise routine.
Exercise increase growth hormone and adrenaline which translates to more energy and better mood.  Many people quit their exercise over the holidays because they feel overwhelmed, when in fact they would handle the stress better, and be more productive if they exercised.
If you stop, you have to start again.  Psychologically, if you stop an exercise program, it is much easier to put it off.  This is how many people end up starting with a week off for thanksgiving, and before they know it they have make excuses through mid January and then have to jump back in with the new years resolution crowd.  During this period people often experience depression, weight gain, anxiety, and poor sleep.  Coincidence?  I think not.
Don't stop taking your supplements.  Having optimum nutrients makes your more insulin sensitive,  less sensitive to stress, and improves energy and sleep.  When the quality of your food goes down and you are consuming more carbs and more family stress, it becomes imperative to give your body the nutrients it's missing.  Don't mistake eating a lot for eating good.  You still need to make sure you are taking all your supplements for optimal holiday health.
It's good to escape.  A big part of the holidays usually involved a crowded busy home with no space.  It's good to escape and get some you time to secure your sanity and breathe.  Taking a few minutes to escape to the gym can be almost a treat of sorts.  It's the season of giving, but don't forget to make time for yourself in the process.
---