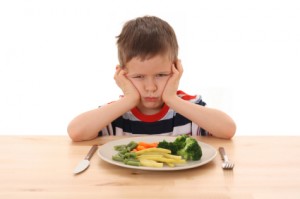 Sometimes it doesn't take anything more than the idea of eating healthier to get turned up noses and puckered faces.  Here are a few strategies to get happier faces and tummies
Serve dishes separately –  Start with the meat and veggies, then bring out the carbs.  People have a tendency to eat whatever is in front of them, and if there are options, they are going to go for the most tasty first.  By bringing out the carbs last it allows people to fill their plates with the good stuff before they pack the plate full of carbs.
Don't use massive serving dishes and plates – The bigger the dish, the more food people will pile on, and in America there is the subconscious urge to clean your plate.  Another strategy is to use multiple dishes, designated for certain items.  This is a good practice when using a buffet system.
Don't have deserts out for snacks before the big meal, sugar makes you hungry and suppresses your ability to communicate fullness to the brain.  Sugar first will increase intake.
Add more fiber and healthy fats, these foods are healthy, increase fullness, and can decrease the effect of carbs
Don't serve a bread – this is just one area to avoid all together.  Odds are no one will miss rolls at dinner anyway
Don't serve sodas or juice – The high sugar content in sugar doesn't allow you to feel full as noted earlier.  It's even worse when consumed in liquid form.
Don't have seating or plates near the snack area, if people have to stand and use a napkin they are much more likely to take and eat smaller portions.
---