If you look on the back of a vitamin or food package you will see that ingredients are rated as a percent daily value.  The macronutrients (fats, carbohydrates, and protein) ratios are under the assumption of a person consuming a 2000 calorie per day diet.  The micro nutrients (mostly vitamins and minerals) do not consider the dietary amount. This percentage is based on the RDA. The RDA has always been one of the most misunderstood and controversial  numbers in nutrition. RDA stands for Recommended Dietary Allowance, or as I would call it, Really Dumb Advice.
In 1997 the RDA was renamed as the Reference Daily Intake or Recommended Daily Intake (RDI) which is defined as the daily intake level of a nutrient that is considered to be sufficient to meet the requirements of 97–98% of healthy individuals in every demographic in the United States.  Even though they changed a letter, the RDI is still based on the RDA numbers from 1968.  The majority of the research behind the RDA was done during world war II and made most of its final changes in 1941.  Several revisions were made going into the 1950's, but very little has changed since then. There is more skepticism today than ever with the guidelines of the RDI that do not line up with today's research for what is healthy.
The lack of consistency is also an issue.  For instance, the RDI for sodium is much higher in the US and Great Britain at 6g per day despite the fact that research points out that 500mg (1/12 of the RDI) is the safe amount.  Other countries have much lower RDI's for sodium, but having a higher RDI in the US and GB makes it much easier to sell processed and heavily preserved foods.  It has to make you wonder who these guidelines are meant to protect.  If you look at sodium, it would seem to be protecting food manufacturers rather than the consumer.  This is no surprise given how the food industry is quite possibly the most corrupt and misrepresented in the US.  The amount of government sponsored nutrition research and advice in this country that is fraudulent is just astounding.
Let's pretend for a moment though that your government was not trying to poison your food supply and that the RDI was regulated for the benefit of the consumer.  Here are some major issues with the research behind the numbers.  First off, these values were originally defined as the bare minimum to prevent disease.  For instance, the RDI for vitamin D, is the bare minimum dosage it took to prevent rickets, which is a disease caused by vitamin D deficiency.  If you follow that logic, the RDI is just enough to keep you from falling into a diseased state.  Most people I know that take a daily vitamin are looking for optimal health, not because if they don't take it today, they will be diseased tomorrow.  So the first conclusion we can make is that these numbers are not the amount to make you healthy, just enough to keep you alive.
If you read the definition of RDI, you should have seen the part where these numbers reflect the needs of 97-98% of healthy individuals.  This is perhaps the biggest fall back of the system.  Current research predicts that half of the US population will be obese by year 2030.  That's not overweight, but obese.  A recent study by Live Science found that only 3% of Americans are living a healthy lifestyle.  So in reality you could say the RDI is intended for 97-98% of 3% or about 2.8% of Americans.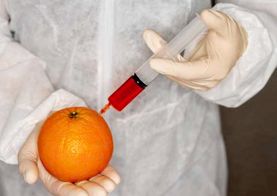 The next thing to consider is the age of the research.  Ask anyone old enough and I'm sure they can attest that the world has changed a great deal since 1950, and so has our food.  Food today has less fiber, more preservatives, more sugar and calories, and much less vitamins and minerals.  For example, an orange picked 50 years ago would have 80% more vitamin C compared to one today.  The fight for health today is much harder as well.  Today's workforce is largely under neon fluorescent light that depletes vitamin B2, we hide from the sun which is where we get most of our vitamin D, more toxins that deplete all sorts of B vitamins have been put into our planet in the last 30 years, our meat is fed corn and grain instead of grass which decreases omega 3's and CLA (healthy fats), everyone is taking medications that deplete vitamins and minerals from their body, and no one eats whole foods that contain nutrients we can actually absorb.  That takes me to my next point.
There is a false sense of equality.  The truth about nutrition is that it is much more complex than people believe.  Let's stick with that orange again.  An orange may contain a higher amount of vitamin C than a blueberry, but an equal amount of blueberries will provide the body with much more of this powerful antioxidant because the vitamin C in blueberries is more bioavailable.  The moral of the story is 100% isn't always 100%.  Just because it's in the mixture doesn't mean you get it.  For instance, grain products like cereals and breads actually block the absorption of some B vitamins and soy products actually take nutrients away from you.
Now that we know the numbers don't really add up to what your body really gets, let's see if the numbers are worth even knowing at all.  The FDA (Food and Drug Administration) that sets the guidelines for the RDI and basically what is allowed to be in our food has a set of labeling rules.  This means the package has to contain what the label says within a certain amount of accuracy.  Unfortunately they are not very strict requirements.  There are also loopholes within this system.  I believe trans fats are the biggest culprit here.  Now that several states have banned trans fats, some companies were forced to change their products, but some just changed the label.  Say a product used to have 1g of trans fat per serving.  Instead of removing the trans fats, a company can just cut the serving size down until there is less than
0.5g per serving.  They can now label it as 0g trans fat.  They can also do this to market a product as healthy, low fat, low calorie, etc. just by adjusting the serving size.  But lets be honest, who really eats 2 Oreo cookies?  So really, the only things we know are in our food, are what the food companies want us to know.
Say you're still in denial and don't want to think that Nestle would trick you like that.  Here's one more reason these numbers are worthless.  The way they measure calories is not through a biologically active digestive system, but through a device much like a small furnace.  So how it relates to your body chemistry is not tested.  On top of that, nature is not a machine.  Going back to that orange again, an orange that grows higher in the tree or further from the center will have a different nutrition profile than one that grows towards the center of the tree.  Do you think they calculate where each orange is picked before they turn it into your Florida Orange Juice?  Not a chance! It's a guess likely based on orange juice or oranges that were picked years ago.
So what can you do to make sure you are getting quality food and adequate nutrition?  One of the best ways to deal with bad labeling is to avoid it all together.  Buy more foods that don't come with labels.  These are whole foods like fresh fruits and vegetables.  If you're concerned about getting adequate nutrients, you can start with a quality multi nutrient like Multi-Intense or Uber Nutrients sold at HansonPerformance.com/supplements.  But if you really want to maximize your health, you should seek out a BioSignature practitioner who can educate you on what nutrients your unique body needs.
---