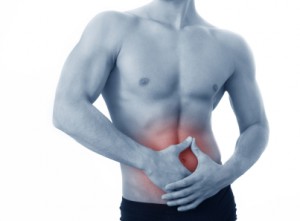 Part of our goal when working with clients is to reduce the stresses people face on a daily basis while simultaneously increasing their body's ability to tolerate them. A part of that treatment includes looking at the foods we ingest as stressors as well.  Aside from the obvious bad food choices, some foods will stress your body out and yet seemingly be a food that has many good nutrients in it. What I'm talking about are food sensitivities. These are adverse reactions individuals may have to innocuous foods such as onions, broccoli, or any other food. When I first tell people about how food sensitivities may be hijacking their results, they tend to respond by rationalizing that they've never had a bad reaction from anything they have ever eaten. Usually they associate food sensitivities with what we've grown up believing:
"Food sensitivities are when someone eats a food that causes a violent reaction, either in a life threatening situation that has to do with constricted airways, or an aggressive hives breakout all over the body."
While this is true, that is more associated with a food allergy.  A food sensitivity is a little bit different.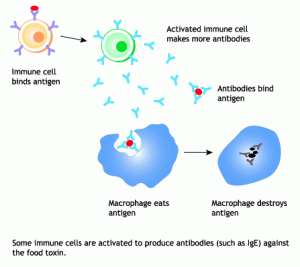 Food allergies are IgE immunoglobulin reactions.  It is a type of immunoglobulin that gets unregulated immediately after an allergen is ingested.  When the immune system is overactive this is the result. IgE is what typically gets tested at the conventional doctor's office when they prick your skin with different antigen challenges.  IgE however, is only one type of antibody reaction.  This is what people associate with a full-blown food allergy.  In reality there are FIVE different types of antibody reactions in the body:  IgG, IgA, IgM, IgE, and IgD.  The one I would like to focus on today is called IgG.  This is an antibody that has a DELAYED reaction, one that can occur up to 3 days post ingestion of the offending food or chemical. We usually consider these types of reactions food SENSITIVITIES because the reaction is not quite as quick and obvious. This does not mean that they aren't every bit as debilitating as an IgE kind of reaction.
The symptoms can be anything. Here is a non-exhaustive list of the symptoms:
PHYSICAL:
Acne
Asthma
Arthritis
Blurred vision
Headaches
Migraines
Muscle pain
Spotted vision
Stiffness
DIGESTIVE:
Bloating
Compulsive eating
Constipation
Food cravings (sugar, starch, carbohydrates)
Heartburn
Indigestion
Water retention
Weight management problems
SLEEP:
Drowsiness
Fatigue
Interrupted sleep
Restless sleep
PSYCHOLOGICAL:
Anxiety
Depression
Irritability
Mental agitation
Mood swings
Poor memory
Poor concentration
Restlessness
DISEASE RELATED:
Attention Deficit Disorder (ADD)
Autism
Irritable Bowel Syndrome
Fibromyalgia
Hyperactivity (ADHD)
Multiple Sclerosis
Premenstrual Syndrome (PMS)
In addition, all autoimmune diseases are closely related to food sensitivities. Meaning, they can be manifested, and/or exacerbated by eating foods you are sensitive to, due to their effect on gut health.
To read more of this article download Functional Fitness Magazine Vol. 1  for free here
---