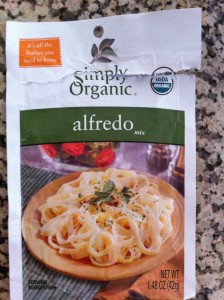 Creamy rich Alfredo sauce has been one of the big no no's for dieters looking to watch their weight.  A big part of this was probably because of the fear of saturated fat and overall fat content.  In reality, it is not the fat in the Alfredo to be feared but the pile of starch and gluten which it is usually poured on.  One of my favorite ways to replace a pasta dish is to use diced cauliflower.  Steamed or raw is just a preference based on texture.  You can also use broccoli if you prefer.
Heres a recipe I am fond of.
1 packet of Simply Organic Alfredo Mix
Directions:
 1. In a saucepan, heat 1 1/4 cup of water, 1/4 cup heavy whipping cream and 1 1/2 tbsp. butter until butter melts.
2. Add packet contents to saucepan and stir until completely dissolved. Cook on medium heat for 5 minutes. Be careful not to overheat.
3. Add 1/4 cup grated Parmesan cheese and stir constantly for 20 seconds.
4. Remove from heat and serve over diced 1 cup diced cauliflower or broccoli  and cooked meat (diced chicken, ground beef, diced steak, or shrimp)
This recipe by design is low carb, gluten free, and the vegetable fiber makes the fats healthy.
---